ID Finder

add-in icon
Add-In information
Creator
UltimateBeta(Vasilis1234)
Status

Verified
Visibility
Client-sided
Latest version
2.0

Date added to the store
January 2014

Creator's website
UltimateBeta's site
ID Finder is an add-in created by UltimateBeta(Vasilis1234), and can be downloaded to CuP at the CuP store.
The Add-In
Edit
The add-in shows you all the categories of IDs you want. (ex. Face Item ID,Body Item ID,Background ID,Pin ID etc).
This is a verified add-in.
You can't get banned.
Final version not released yet.
The icon for it was created by CoolFluby, and UltimateBeta bought it in the CuP Forums. The price was 0,00$ (free).
You can find it on the forum here. It is on the "CoolFluby" and "Used" sections.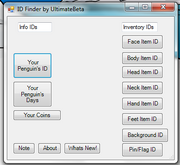 How to use
Edit
Open the add-in.
Make sure you have wore all the inventory items(if you want).
Choose on the add-in what category of ID you want to see.
If you will see a "0" it means that you haven't wore that category on your playercard.