The Add-In manager is a panel and part of CuP, where one can access their previously installed Add-Ins. Before v1.2, add-ins were listed by installation date, although now they are listed alphabetically.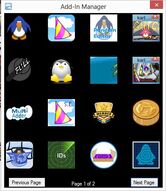 You can either run an add-in by double-clicking it or right-clicking it and choosing run. When you right-click an add-in, the 'About' option also becomes visible, which gives you brief information about the add-in. You can also remove add-ins through this panel.
It is inspired by Android's apps screen.